TL;DR: study smarter not longer by tagging, reviewing, and bookmarking your practice questions.
A timeless question – it seems like every time you ask someone, you get a different answer! We took a close look at study data from recent test-takers (22+ AA, top 5% of test-takers) to find an objective answer to this question.
What we noticed in the data was that out of 22+ AA test-takers, 75% had tagged (learning, reviewing, mastered) more than 1,600 questions and 100% had tagged at least 250 questions! For reference, one full-length practice test contains 280 questions. The more questions you tag, the better you can understand where your strengths and weaknesses are. And when reviewing questions, you can spend more time reviewing your weaknesses and thus be more time-efficient with your studying. Every minute counts!


To tag a question, there is a handy toolbar at the bottom of each explanation with colored buttons. When I read a question and explanation, and still have very little clue what it all means, I tag it as "learning" (red)! When I go back to see an explanation again, and have a better understanding of how a problem works, I tag it as "reviewing" (yellow). After I feel comfortable and confident with a practice question, I mark it as "mastered" (green).
Tagging questions can help you identify and reinforce your weaknesses, but don't worry about needing to "master" every single question! For 22+ AA test-takers who tagged more than 2,000 questions, they tagged more than 65% questions as "mastered", not 100%. However most students, by the end of their studying, tagged less than 10% questions as "learning", so they tried to eliminate weaknesses. Learning is not linear; it is a process that builds with repetition and exposure. The goal is for you to practice concepts enough to feel comfortable by the time you see them on test day.
Some test-takers also shared their advice:
"I would usually redo the questions I tagged as reviewing/learning the day after I took a practice test. It also helped me notice what my weak areas were especially for QR. I would definitely recommend students use this tool, it benefited me a lot and helped make my studying more efficient!"

"I used the reviewing tool a lot and I thought it was helpful…I would recommend students to mark for reviewing…"

"I really liked the tagging tool…I would recommend bookmarking to everyone!"

"Anytime I had a question that I got wrong or wasn't 100% positive about, I tagged it and bookmarked it."
Additionally, many students use the bookmark feature to revisit concepts. To make this even easier, there is a handy icon to navigate to ALL your bookmarked questions on the sidebar right here: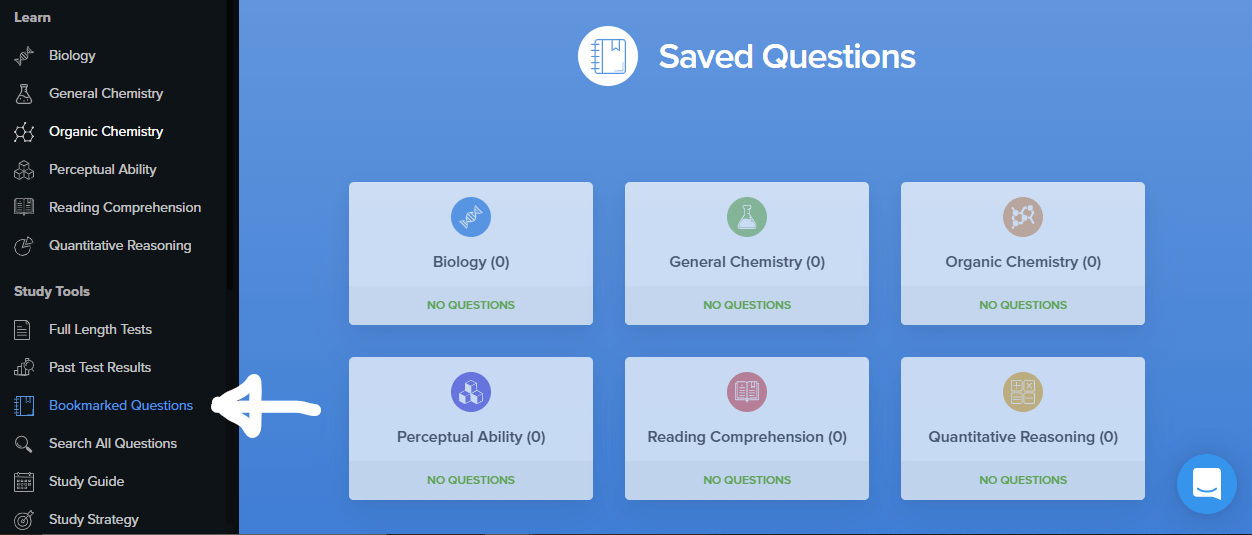 Use this to keep handy questions you want to review.
The possibilities are endless with the tagging and bookmarking system for review and mastery. You lose very little time, and gain a great amount of learning potential!
Happy studying!