"Most recommended for 2021"
"Bootcamp is all you need"
"I couldn't have done it without you"
Upgrade Your Membership and Get the All-In-One Study Tool You Need to Ace the DAT
Most Popular
✏️

60 high-yield practice tests with thorough explanations and illustrations that are easy to understand.

💻

10 full length exam simulations to help you get comfortable with what you'll see on test day.

📹

Dr. Mike's Chemistry Videos spans 330+ in-depth videos teaching you DAT chemistry from the ground up.

📹

PAT, QR, and RC Academy which includes 70+ in-depth videos paired with 450+ practice problems to test and reinforce your understanding.

🧬

400+ Biology Videos that break down critical concepts into easy to understand bites.
⚡

PAT Generators create an unlimited amount of exam-like angle ranking, hole punching, cube counting, and pattern folding questions for you on the fly.

📑

Our proven study schedule that has 1000's of our students scoring extremely well on their DAT.

🤩

Student Hero support that's like having a private tutor at your fingertips anytime, anywhere.

📱

iOS and Android apps help you review your content on-the-go!

📅

90 days of access.
⬅️

Includes everything you get in the Bootcamp Pro membership, and more.

🔬

Biology Plus Packs - 200 additional biology practice questions in the biology question bank.

⚗️

General Chemistry Plus Packs - 150 additional general chemistry practice questions in the general chemistry question bank.

💊

Organic Chemistry Plus Packs - 150 additional organic chemistry practice questions in the organic chemistry question bank.

📐

Perceptual Ability Plus Packs - 450 additional perceptual ability questions spanning across 5 new practice tests.
📙

Reading Comprehension Plus Packs - 200 additional reading comprehension practice questions spanning across 5 new reading comprehension tests.

🤩

Priority Student Hero support gets your questions answered faster anytime, anywhere.

📱

iOS and Android apps help you review your content on-the-go!

📅

180 days of access.
Angela Adhikari, 22 AA (96.7%), Featured Student of November
"I would HIGHLY recommend students use DAT Bootcamp. I strongly believe that the value of the program is far beyond what it costs. Similar prep classes cost upwards of $1000 and don't offer the things that Bootcamp does."
Read Angela's story or Begin your own
See How DAT Bootcamp Stacks up Against Other Prep Courses, Like Kaplan:
DAT Bootcamp has created powerful techniques for approaching all sections of the DAT. And we offer more high-yield study material than anyone else
Price
Number of Practice Tests
Number of Questions
Biology Videos
General Chemistry Videos
Organic Chemistry Videos
Perceptual Ability Videos
Reading Comprehension Videos
Quantitative Reasoning Videos
Full-Length Exam Simulation
Unlimited PAT Practice
Floating Cube Questions
Custom Biology Illustrations
DAT Pro Tips
OC Reaction Qbank
Bio Bites
One-on-One Tutoring
Bootcamp Pro
$497
60 Practice Tests
8,800+ Questions
400+ HD Videos
600+ HD Videos
750+ HD Videos
850+ HD Videos
20 HD Videos
950+ HD Videos
Kaplan*
$1199
42 Practice Tests
3460+ Questions
< 100 Videos
< 50 Videos
< 50 Videos
< 50 Videos
< 20 Videos
< 50 Videos
*DAT Live Online Course as of 4/05/21
Haley Neal, 23 AA (98.8%), Featured Student of February
"If I could've done anything differently, I wouldn't have spent the money on Kaplan and just used Bootcamp. Bootcamp tests you only on what you need to know, and nothing you don't."
Read Hayley's story or Begin your own
"What's the biggest difference between DAT Bootcamp vs. everyone else?"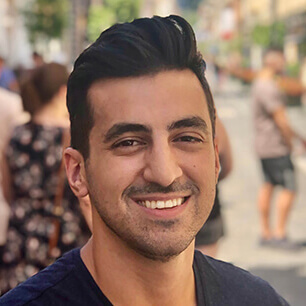 Simply put: we're the best all-in-one study tool to ace the DAT and get into dental school - you won't need to buy anything else. We have the largest set of practice tests, questions, and videos out of anyone, and we have the best explanations that make studying for the DAT easy.
It's no coincidence nearly every dental student has used Bootcamp to prepare for the DAT.
See how we're going to make studying each of the subjects on the DAT easy for you 👇
Biology
Bootcamp highlights the most frequently tested Biology concepts
10 practice tests, 3,880 questions, 400+ videos, and the Bootcamp Biology Notes.
DAT Pro-Tips highlight concepts tested most often.
Bio Bites make learning biology easy - quickly test what you know and what you need to review.
Beautiful, hand-drawn biology illustrations bring concepts to life.

General Chemistry
Master General Chemistry with Dr. Mike's Videos
10 practice tests, 503 questions, and 600+ videos.
Dr. Mike is an award winning profressor and brings an electric energy to chemistry.
330+ HD lecture videos tailored exactly to what the DAT will test you on - don't waste time studying untested material.
Over 300+ explanation videos to the practice tests that walk you through the problems step-by-step.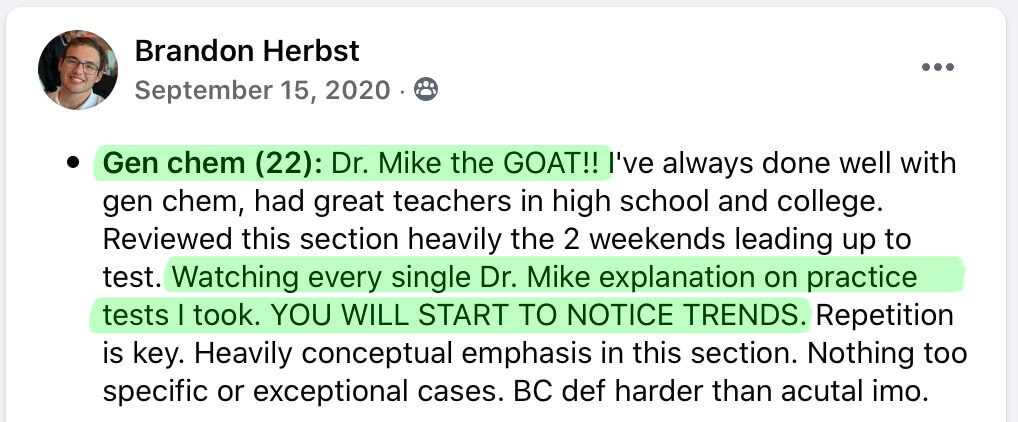 Organic Chemistry
Dr. Mike makes learning organic chemistry easy
10 practice tests, 977 questions, and 750+ videos.
Dr. Mike's OC DAT Videos will break down every question on the DAT and how to answer them quickly.
OC Reaction Question Bank with video explanations - over 200 questions teaching you shortcuts for the real DAT.
OC Reaction Cheatsheet organizes all the reactions you need to study for the DAT in one place.

Perceptual Ability
Joel and Kiana teach you how to destroy the PAT
10 practice tests, 1,499 questions, and 850+ videos.
Only Bootcamp has a TFE Visualizer to create unlimited TFE questions.
Floating cubes videos and practice included in PAT section.
PAT Generators to create unlimited PAT practice questions.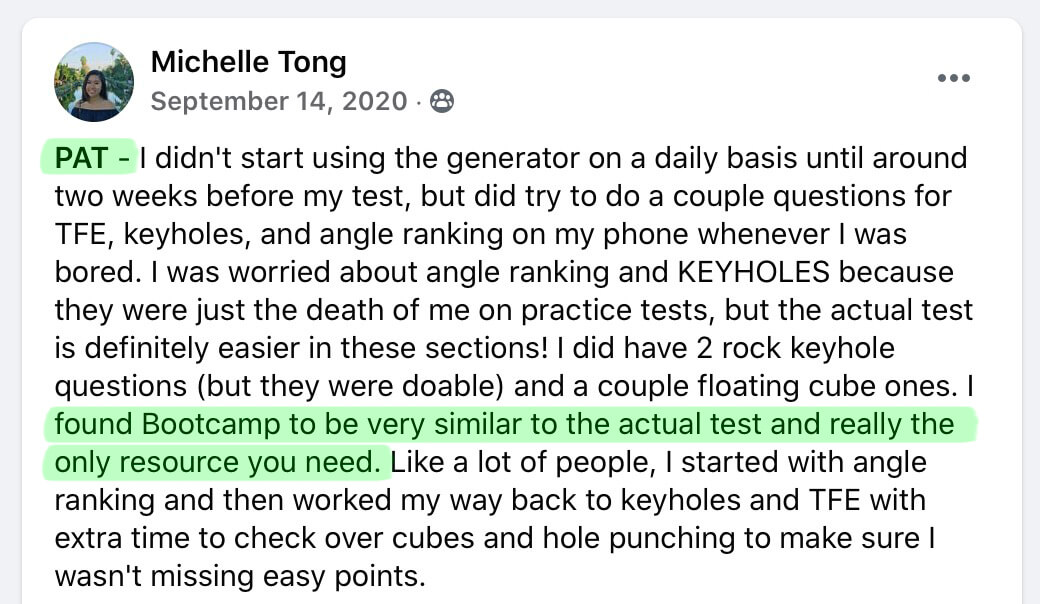 Reading Comprehension
Simulate the DAT with real RC passages
10 practice tests, 789 questions, 20 videos.
Recently added questions with graphs, evidence, and related words.
RC Academy reviews the best methods to ace the RC section.
Passage Question Bank helps you practice different methods before practice tests.

Quantitative Reasoning
Destroy QR with the largest bank of practice problems
10 practice tests, 1,152 questions, and 950+ videos.
QR Academy breaks down every DAT QR problem and teaches shortcuts to answer them.
QR Formulas Cheatsheet highlights all the equations you need to answer QR questions.
Largest bank of QR practice problems with video explanations make practice easy.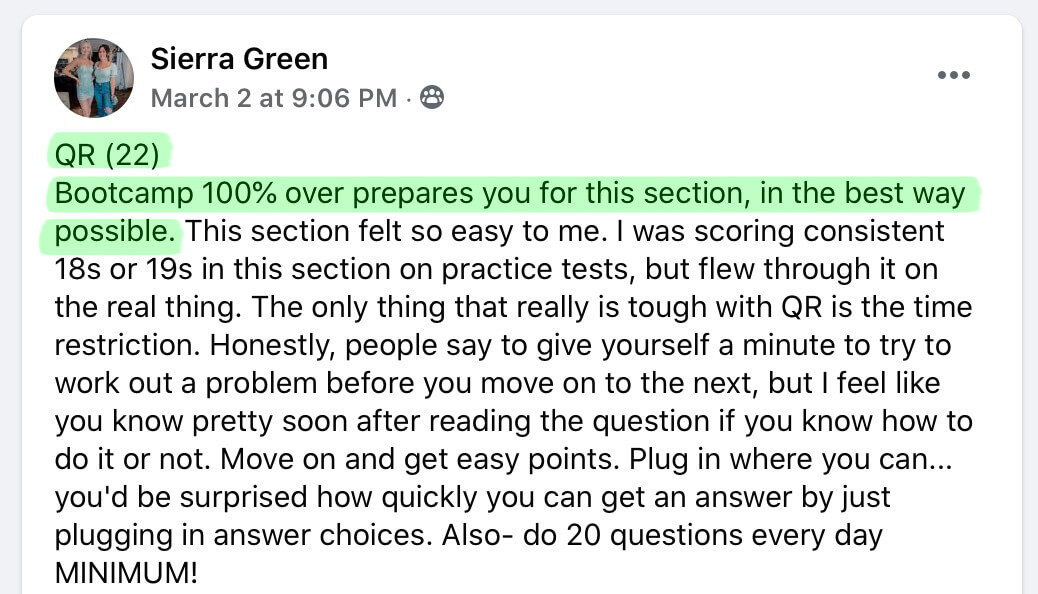 And so much more...
Full Length Simulation
Our Full Length Exams mirror exactly what you'll see on test day.
Guided Study Schedule
Stay on track and study only what you absolutely need to know.
Tagging & Mastery Review
Unique tagging system and mastery review banks help you study efficiently.
iOS and Android Mobile app
It's never been easier to study on the go than with Bootcamp.
Daily Warmup
Daily Warmup gives you new questions to practice with each day.
DAT Study Group
Join the largest and most active DAT study group.
Carly Robinson, 22 AA (96.0%), Featured Student of March
"Bootcamp took me from a 17 AA to a 22 AA. I truly believe that Bootcamp prepares you for anything that could possibly be tested."
Read Carly's story or Begin your own
We've had students just like you succeed with DAT Bootcamp. See their stories below.
Full-time job? Retaking? Non-traditional? Check out the success stories of some of our best students:
Busy college student? We got you covered.
You already have a busy schedule between classes and volunteering. See how college students use DAT Bootcamp to get a top score on the DAT:
Retaking the DAT?
You've already taken the DAT and need to improve your score. See how re-takers use DAT Bootcamp to focus, practice, and make huge improvements to their score:
Are you a Canadian or an International student?
The Canadian DAT and American DAT are nearly identical. See how Canadian students use DAT Bootcamp to ace the science, PAT, and reading sections of the CDAT:
Changing careers? Or from a non-traditional background?
Your last science class may have been a while ago. See how non-traditional students use DAT Bootcamp to review high-yield science and math content:
Taking the DAT in just a few weeks?
You only have a few weeks before the test. See how last-minute studiers use DAT Bootcamp to focus their studying and make every minute count:
Balancing school, studying, and a full-time job?
Between work and studying, your time is limited. See how full-time working students used DAT Bootcamp to study effectively for the test:
Check out What Our Students Are Saying About Their Success with DAT Bootcamp:
Everything you need to get an awesome DAT score, and nothing you don't.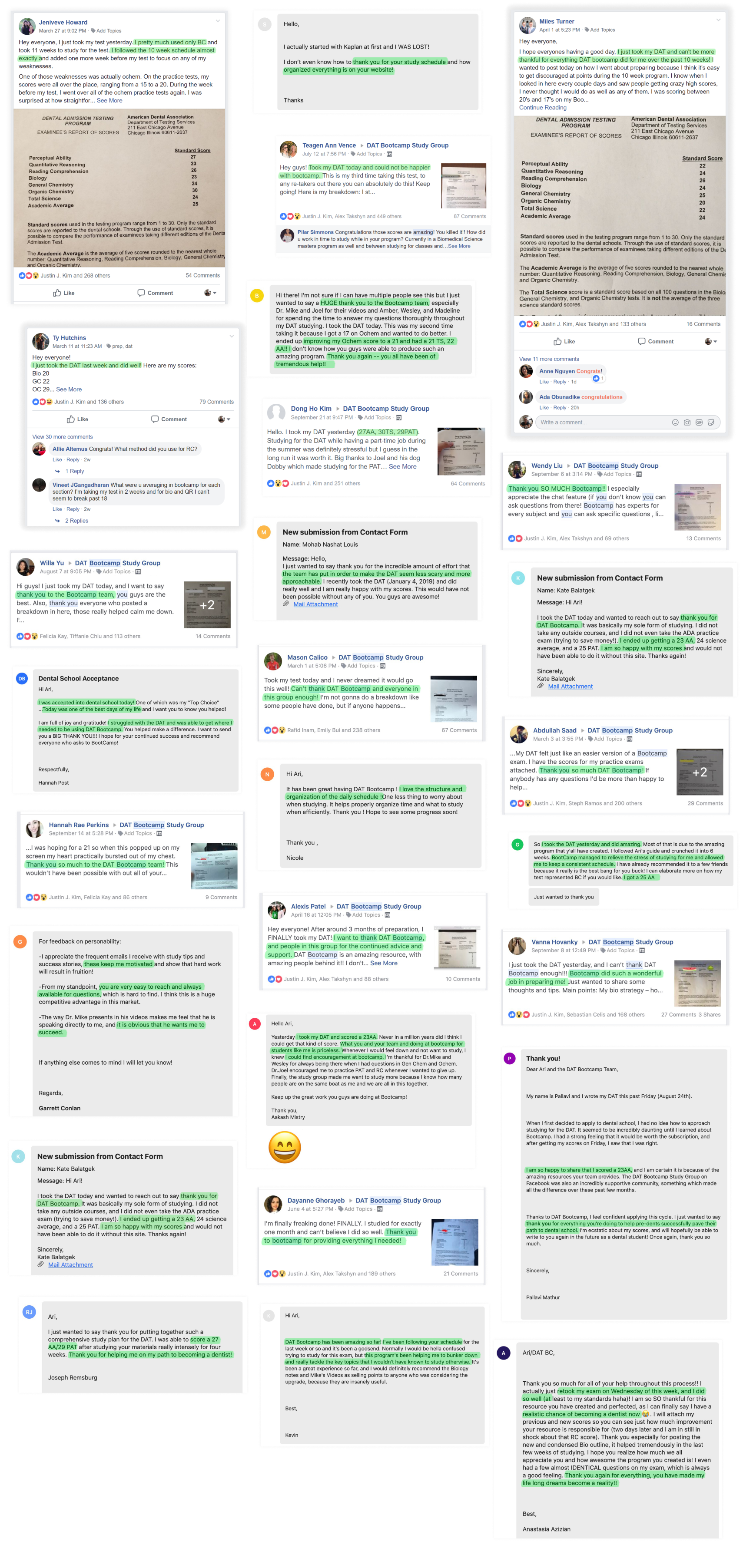 Frequently Asked Questions
How similar is DAT Bootcamp to the actual DAT?
We believe it's very similar in terms of difficulty. We ask questions that require you to think critically to ensure you thoroughly understand all topics that could be asked on the DAT.
Are all of the subject tests different?
Every test covers different concepts and topics. We avoid repeating questions and avoid asking the same question with different numbers.
I take the DAT in a few days. Will I have time to complete every practice test, and will it be helpful?
We believe DAT Bootcamp is most effective when used for the duration of the 90 day subscription, but can still be very effective even if you only have a couple of weeks to study with it.
I've already taken an expensive commercial prep course, will DAT Bootcamp help me?
Absolutely. Since all we focus on is the DAT, we can invest more time and resources into creating high-quality explanations that will teach you the DAT-specific strategies to ace your exam. All of our content was written and created specifically for the DAT. None of our content has been adapted or reused from other exams, like the MCAT, which provides you a higher quality test prep experience.
How long will my upgrade last?
Bootcamp Pro memberships expire 90 days after purchase. Bootcamp Plus memberships expire 180 days after purchase. You will not be billed again at the end of your subscription.
Do you offer any coupon codes?
If you're a member of a pre-dental club or society, check with one of your officers to see if you have a discount already set up for your school. If not, just have an officer contact us so we can setup a discount!
I received a DAT fee waiver from the ADA, am I eligible for financial help to buy DAT Bootcamp?
Of course. Send us a message with your DAT fee waiver verification from the ADA and we'll help you out.
Is there a payment plan for DAT Bootcamp?
Yes! We work with Quadpay, go here to download the Quadpay Chrome extension (https://chrome.google.com/webstore/detail/quadpay-buy-now-pay-later/liindccgkpdcafeceonflfdmkjhijapj).
Quadpay allows you to pay interest-free in 4 installments over 6 weeks.
Once you've installed the extension, go to the upgrade page in Chrome and continue to the checkout page. Click the Quadpay button in the top right of your browser and checkout using Quadpay.
DAT experts, standing by.
Always humans, never bots. The hands-down, sharpest and friendliest DAT support team available to you. Contact us and we'll get back to you ASAP.