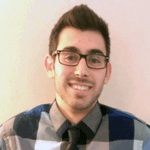 Meet Vince Marino, a happy DAT Bootcamp customer who recently retook the DAT and absolutely crushed it. I've asked Vince to share his DAT re-take experience with us as the featured student of March.
What is one piece of advice you would give to another student preparing to take the DAT?
The most important piece of advice I can give to students preparing for the DAT is to take a step back and assess the task at hand. If you go into the study process without a plan, you won't do nearly as well on the test as you should. Create a study plan that spreads all of the material out, and set a goal to get through the amount of material you have planned for each day. Make sure to build in at least one off-day per week, and try not to deviate from your schedule because you can easily fall behind. Begin taking practice tests a few weeks into your schedule, and spend extra time on the areas that you struggle with. It is also important to evaluate what sections you are the weakest on, and dedicate the most practice to those subjects. Don't just brush over sections you are strong in though, because with all the information being crammed into your head it is easy to let a few things slip. Finally, the day before the exam, don't study anything except for a few practice PAT tests to keep your eyes sharp. Do something that relaxes you and get a good night's rest to be ready to go on test day.
How did you use DAT Bootcamp to prepare for the DAT?
After I had reviewed all of the science material and math formulas, I began to take a few DAT Bootcamp tests per week. DAT Bootcamp had, without question, the most representative exams out of any of the study materials I used, and I quickly stopped using the other materials once I saw how much more the DAT Bootcamp exams resembled the actual DAT. After each test, I would read all explanations and evaluate the areas I struggled with so I could go back and study further. A few weeks before my test, I would wake up every morning, eat, and take a series of DAT Bootcamp exams that simulated the real DAT without breaks in between sections. I believe that this truly helped give me the mental stamina needed for the actual test. The subject-specific practice tests also really helped to assess troubled areas after I went through each test once. Also, the PAT question generator was an invaluable tool to get a lot of repetition and get familiar with the style of the questions.
What would you do differently to prepare for the DAT?
If I could go back and prepare for the DAT again, I would have used DAT Bootcamp the first time around, without a doubt. Also, I would not stress out about the test as much and just accept that I was doing everything in my power to get the best scores that I could. I would spend a lot of the days worrying about when I was going to study or if I was going to get through everything that day. It's important to relax, take a deep breath, and realize that you will get everything done if you want to. On test day, before advancing to the next section it is important to calm yourself down and adjust your mindset to the upcoming questions. Above all, know when to skip questions that will take you too long to figure out, even during practice. When there is a minute left and you have a few unanswered questions, make sure to go back and fill in an answer.
My re-take score breakdown: 24 AA, 23 TS, 24 BIO, 26 GC, 20 OC, 28 RC, 20 QR, 25 PAT.
Let it be known also that this was my 2nd time taking the test, and here were my scores the first time around without DAT Bootcamp:
The first time I took the test: 20 AA, 19 TS, 19 BIO, 20 GC, 19 OC, 22 RC, 19 QR, 18 PAT.
Get a better DAT score
Get instant access to 60 practice tests, Mike's Chemistry Videos, PAT generators, the full-length test simulator, and a lot more.
Upgrade Your Membership