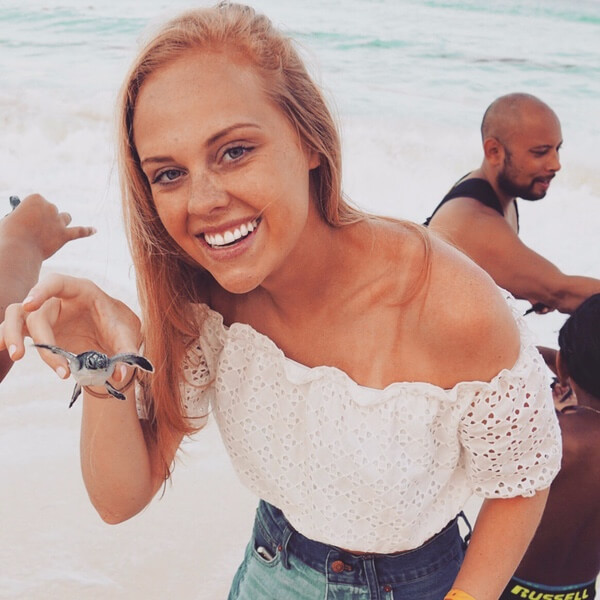 Meet Alexandra, a happy DAT Bootcamp customer who recently conquered the DAT. I've asked Alexandra to share her DAT experience with us as the featured student of March.
What is one piece of advice you would give to another student preparing to take the DAT?
The biggest piece of advice I would give a student studying for the DAT would be to not underestimate yourself. Standardized tests have never been my strongest asset, but with consistent and focused preparation I was able to score a 24AA on the DAT. DAT Bootcamp is everything you need and more to prepare and exceed your own expectations on the DAT. Come test day, walk into the prometric center confident and trust every hour of preparation you put in!
I would also say it is important to set a test date and go all in. Set a schedule and be meticulous that you get some type of active studying done even if some days aren't super productive. Consistency was crucial for me to be fully prepared on my test day. I studied for 2.5 months in the summer and took the DAT in late July. I studied roughly 5-6 days a week for 4-8 hours. I definitely had days when it felt like nothing would stick, but just push through it and as long as you absorbed one piece of information that day, you are moving in the right direction. Speak positively to yourself!
How did you use DAT Bootcamp to prepare for the DAT?
DAT Bootcamp is the absolute GOAT of DAT prep programs. I believe in it whole heartedly and I'd recommend it to everyone taking the DAT.
I followed the 10 week bootcamp study schedule, but made some modifications along the way. I used the Mike's review videos and outlines for organic and gen chemistry review and these were SO helpful. I did all of the timed, subject practice tests and reviewed the answers and explanations. The key here was to spend time on the explanations and learn from my mistakes. I studied the equation sheet provided for general chemistry and used it as I went through practice problems and studied concepts. I studied the organic chemistry reaction sheet a little bit most days – super helpful and clearly laid out. I did tests 6-10 for full length exams and pretended it was the real DAT. This was great for getting my testing endurance ready and learning how to take the exam.
Overall, I used basically every tool, test, worksheet, practice problem, etc that bootcamp offered. My best advice on how to get the most out of your preparation is to actively practice concepts you struggle with. Spend time on the explanations and really hammer home types of problems you got wrong on the tests. Don't spend time worrying about your practice test scores because by the end of your prep, they will be improved a ton.
What would you do differently to prepare for the DAT?
One thing I would've done differently right off the bat is to approach the study guide as a guide to actively studying instead of as a checklist. It took me a couple weeks to realize I needed to practice the concepts and problems I wasn't good at and actively quiz myself in order to get better. I also would have started doing QR tests sooner to get better at the types of word problems.
I'm happy to answer any other questions you guys may have. You can DM me on my dental Instagram page "thefreshdentist". (Not a dentist yet, just a fun name). Good luck studying everybody!!
Biology

20

General Chemistry

24

Organic Chemistry

29

Reading Comprehension

25

Perceptual Ability

20

Quantitative Reasoning

21

Academic Average

24
Get a better DAT score
Get instant access to 60 practice tests, Mike's Chemistry Videos, PAT generators, the full-length test simulator, and a lot more.
Upgrade Your Membership
---